Or did we simply catch up to it?
Both smartphone technology and a broader user understanding have finally caught up to QR – Quick Response Codes.  Apple's iOS 11 natively supports QR Codes without the need to download a 3rd-party scanning app.  The function is built right into the most commonly used app, the camera – replacing a search box with a viewfinder.  Android is not far behind.  Snapchat has also bumped QR codes back into the mainstream via Snapcodes.
This renewed potential of QR Codes will no doubt change how we tie together print with digital communication.  Snap a picture of a code and take an immediate digital journey.  Open URLs, add contacts, and even join Wi-Fi networks with your camera and a tap to confirm.  In conjunction with the new ARKit App, QR codes will bring augmented reality into your life in all sorts of previously impossible ways, delivering content on top of real-world scenes for interactive gaming, immersive shopping experiences and more.
A couple of our favorite QR code slams from the past: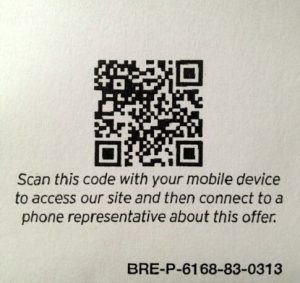 …and please lick a stamp while sending a fax, which will deploy a bike messenger who will then send a telegram with instructions to release the carrier pigeons…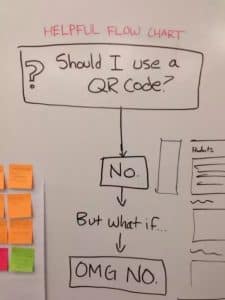 But what if … you don't have to download an app and your phone's camera automatically links you to amazing augmented reality?  OMG, YES!!!